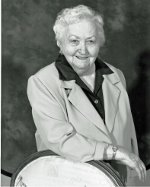 ANNA PAULINE GILLASPIE, 88, of The Woodlands, Texas went to be with Our Lord on July 8, 2010. Anna was born March 16, 1922 in Jasonville, Indiana to Levi and Nellie (Cross) Turley. In 1955.
She moved to Gary, Indiana and retired after 33 years of service from Gary Steel Products, where she was a supervisor, and where she became the first female president of an AFL-CIO union. In 1989, she moved to Birmingham, Alabama, to be near her beloved son, Bill Bedwell, and his family later moving with them to Spring, Texas.
Survivors include her son, Bill & Cheryl Bedwell; grandson, Brandon & Lynda Bedwell; great-grandchildren, Benjamin Joseph and Dagny Rose Bedwell all of Spring and The Woodlands, Texas; nephew, Denver Wolven of Lake Havasu City, Arizona; nieces, Paula Kay & Ralph Matteson of Portage, Indiana and Ruth Ann & Alan Hulan of Denver, Colorado, and their families. She was preceded in death by her parents; brother and sister-in-law, Guy & Patricia Turley; sisters and brothers-in-law, Mary & Paul Jessup, and Myrle & Oscar Fields; niece, Mary Jo  & Denver Wolven; nephews, Ronald Jessup, Larry Fields and James Fields.
A Memorial Service was held in Tomball, Texas on July 13, 2010. Private Family Graveside Memorial Services were also held July 29, 2010 at the Lebanon Cemetery in Midland, Indiana.
Facebook Comments