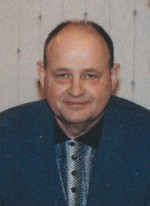 WAYNE A.  BAXTER, 71, of Jasonville, Indiana passed away at 7:19 P.M. Saturday, October 30, 2010 in his residence. He was born August 21, 1939 to Ray H. Baxter and Mabel (Day) Baxter in Jasper County, IN.
Survivors include his wife of 46 years Sandra (Stevenson) Baxter of Jasonville, IN whom he married October 23, 1964; daughter & son-in-law, Amy & Rob Wise of Jasonville, IN; son & daughter-in-law Jeff & Kerry Baxter of Jasonville, IN; brothers & sisters-in-law, Jim & Ardie Baxter of  Hillsboro, MO and Fred & Pat Baxter of Kouts, IN; brother-in-law, William & Joan Stevenson of Bowling Green, KY; sisters-in-law, Jane & Brian Miller of Brazil, IN, Lila Massa of Linton, IN, Sallye Burton of Bloomington, IN; grandchildren, Brooklyn Baxter, Owen Baxter, Seth Wise and Rachel Wise; many special nieces & nephews. He was preceded in death by his parents; grandparents, Edgar & Violet Day and Walter & Ella (Sharkey) Baxter; brothers-in-law, Robert Burton and Michael Burton.
Wayne graduated from Gilboa High School in Remington, IN in 1957. He worked for Remington Ready Mix until 1961; J.L. Wilson Construction in Bloomfield, IN until 1963; and Anaconda, Atlantic Richfield, Arco, Alcan and Novelis in Terre Haute, IN from 1964 until his retirement in 2004. Wayne was a member of the Army National Guard from 1955 until 1963 and a member of the Jasonville United Methodist Church. Wayne loved his family, friends and his special companion, April, his dog. He was always willing to help others and loved his work.
Arrangements were entrusted to Michael W. Cox, Cox Funeral Home, 218 South Meridian Street, Jasonville, IN. Visitation was 4-8 p.m. Tuesday and 9 a.m. until service time Wednesday at the Funeral Home. Funeral Services were 11 a.m. Wednesday, November 3, 2010 with Rev. David Deal & Pastor Mark Messmer officiating. Interment was in Lebanon Cemetery, Midland, Indiana
Memorial contributions were made in lieu of flowers to the Jasonville United Methodist Church, Lawton Street Christian Church, Vista Care Hospice or charity of choice.
Facebook Comments