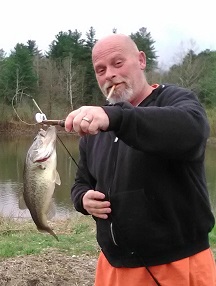 MARK EVANS BENNINGTON, 52, of Jasonville, Indiana passed away at 12:16 a.m. Tuesday, June 13, 2017 in Greene County General Hospital in Linton, IN.  
He was born January 27, 1965 in Lebanon, IN to Norman D. Bennington and Donetta F. (Fairchild) Bennington.
Survivors include his wife, Brandon "Brandy" (Padgett) Bennington of Jasonville, IN whom he married on January 28, 2013; parents, Norman D. Bennington and Donetta F. Bennington of Jasonville; in-laws, Virginia and David Edwards of Lafayette, Gary Padgett of Lafayette; daughters, Melissa Bennington of Anderson, Melissa Knell of Sheridan, Teagan McMasters Bennington of Jasonville; sons, Matthew Bennington of Farmersburg, Chris Bennington of Fishers, Daniel Bennington of Jasonville, Timothy Bennington of Sheridan, Ethan McKinney of Crawfordsville, Zachary McKinney of Crawfordsville, Tyler McKinney of Crawfordsville; grandchildren, Jadyn Scott Caldwell, Jameson Eugene Paddack, Sam Edward Sanders, Troy Bennington; brothers, Nick Douglas Bennington of Whitestown, Brian & Tina Bennington of Indianapolis, Michael & Cassie Bennington of Jasonville; many nieces, nephews and cousins.
He was preceded in death by his paternal grandparents, Howard K. Bennington & Bessie Alverta Bennington.
Mark had previously driven for Custom Concrete in Westfield, IN and a Mail Truck for Sodrel. When he moved to Jasonville he drove for Buchta, then Gypsum Express and at last, Jones & Sons in Vincennes hauling concrete. He was a U.S. Army Veteran.
Arrangements were entrusted to Michael W. Cox, Cox Funeral Home; 218 South Meridian Street; Jasonville, IN; coxfuneralhomejasonville.com. Visitation was scheduled from 5 to 6 p.m. Friday at the Funeral Home with Pastor Matt Jacobson officiating. Funeral Services immediately followed at 6 p.m. Friday, June 16, 2017 with Military Rites.
In lieu of flowers, contributions were made to the Cox Funeral Home to help with funeral expenses.        
Facebook Comments