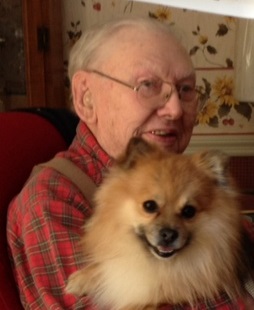 NATHAN ZENO BRIDWELL, 98, of Jasonville, Indiana died at 1:45 p.m. Tuesday, October 24, 2017 in Hoosier Village Health Center, Indianapolis, IN.  
He was born May 9, 1919 to Roy and Rebecca Pearl (Clark) Bridwell. He graduated from Midland High School, Indiana State Teachers College, and Indiana University. He taught music and art in various Indiana school districts as well as serving as Audio-Visual Director for the Southwest School Corporation in Sullivan County.
He belonged to Lebanon Baptist Church where he served as Deacon and Sunday School Teacher. He also attended Shakamak Community Church and the Bible Study there.
Nathan was actively involved in the Jasonville Community, serving on the Chamber of Commerce, Shakamak School Board, and various groups working for the Shakamak Medical Center, State Park improvements, Good Samaritan Home, etc. He recently received the Ed Shepherd Award for his community work.
He was an avid reader, having read the Bible more than 120 times; he enjoyed music, art and his dogs. Always an encourager, educator and networker, he was interested in the people around him.
Survived by daughters, Marsha (Jim) McDaniel of Indianapolis, Lucia (Louis) Ross of Indianapolis; grandchildren, Lisa (Jeff) McDaniel Stang, Ashley Nathan Ross; great-grandchildren, Eleanor and Evelyn Stang; step-children, Gary (Barbara) Howlett, Nora Howlett; step-grandchildren, Mike (Jen) Howlett; step-great-grandchildren, Evelyn and Sabastan Howlett.
He was preceded in death by his parents; sister, Elsie Ross; 1st wife, Eleanor (Peavey) Bridwell on August 1, 1980; 2nd wife, Helen Mae (Cooprider) Howlett-Bridwell on September 24, 2014; step-son, Joe Howlett.
Arrangements were entrusted to Michael W. Cox, Cox Funeral Home; 218 South Meridian Street; Jasonville, IN; coxfuneralhomejasonville.com. Visitation was scheduled from 11 to 1 Saturday at the Shakamak Community Church; 5730 West State Road 48; Jasonville, IN 47438. Funeral Services immediately followed visitation at 1 p.m. Saturday, October 28, 2017 with Pastor Ron Riggs, Pastor Mike Rotman, and Pastor Chris McKinney officiating.
Interment was at Lebanon Cemetery in Midland, IN.
In lieu of flowers contributions were made in made in memory of Nathan to the Shakamak Community Church, Lebanon Baptist Church or Greene County Humane Society. Envelopes were available at the church.
Facebook Comments