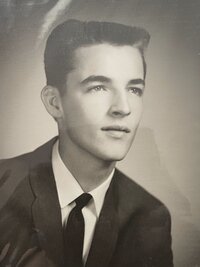 BYRON DALE 'BARNEY" GORBY, 75, of Jasonville, IN passed away surrounded by his loving family at 8:05 P.M. Monday, April 10, 2023 in Greene County General Hospital in Linton, IN.
He was born May 14, 1947 in Hymera, IN to Walter Gorby Sr. and Ella (Benfield) Gorby.
Survivors include his daughter, Leslie Ann Gorby (Anders Malmqvist) of Staffanstorp, Sweden; grandchildren; Alexander Demetri, Juliet Ella-Jean, Andreas Byron-Ake, Belle Evalina; siblings, Patricia Crane of Nineveh, IN, Wilma Payton of Indianapolis, IN, Sharon Danley of Portage, MI, Sandy Perius of Linton, IN; brother in-law and best friend, Richard Gordon of Terre Haute, IN; special friend, Catharina; many nieces and nephews.
He was preceded in death by his parents, Walter Gorby Sr. & Ella Gorby; brothers, Walter Gorby Jr., Jack (John) Gorby; sisters, Phyllis Royer, Janice Gordon.
Byron graduated Hymera High School Class of 1966. He worked as a Fireman on the Kansas City, MO Fire Department. He served 4 years in the US Air Force with the crash rescue team. The Grandview Fire Department, where Byron worked, responds to an average of 5,600+ calls each year. They're 47 firefighters work 24 – hour shifts and are housed in three separate stations strategically placed throughout Grandview to provide the best care for they're citizens. As a full service agency, the number one goal is safety. Byron liked bicycling, fishing, pheasant hunting, all things outdoors. He loved his family and spending time with them.
Arrangements are entrusted to Michael W. Cox, Cox Funeral Home; 218 South Meridian Street; Jasonville, Indiana. In keeping with Byron's wishes cremation is scheduled, there is a Celebration of Life with visitation from 11 A.M. to 1 P.M. Saturday, April 15, 2023 at the Funeral Home. Services are immediately following at 1 P.M. with Pastor Mark Messmer officiating, including a Fire Fighter's Memorial Service. Military Honors to be conducted following the funeral.
Facebook Comments