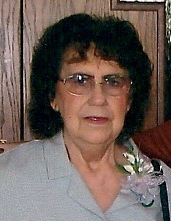 DELORES "DEE DEE" CULLISON, 81, of Hymera, Indiana passed away at 12:05 a.m. Friday, February 3, 2017 in Sullivan County Community Hospital.  
She was born February 2, 1936 in Jasonville, IN the daughter of Roy Hill and Juanita (Burton) Hill and Virgil Bose and Lucille Bose.
Survivors include her only daughter and son-in-law, Deann & John James of Linton; 10 grandchildren, Darrick & Jamie Cullison, Nick & Jessica Cullison, Candy Cullison & Terry Rains, Bobbie Jo and Bobby Snow, Brandon & Jessica Coleman, Travis & Danielle Coleman, Randy & Becca Dilger, Greg & Jessica Dilger, Erikka & Michael Deel, Andrea & Brian Broshears, Cassie & Jason Rush; 18 great-grandchildren; 1 great-great-grandchild and 1 on the way; sisters and brothers-in-law, Beverly & Bob Burris of Jasonville, Sandy & Larry Nelson of Hymera; many nieces, nephews and some cousins; special friends, Beth Ann Samm & J.T. Samm both of Coal City.
She was preceded in death by her parents; sons, Rod Cullison and Jack Cullison; 1st husband and father of her children, Ronnie Cullison; 2nd husband, J.T. Duncan.
Dee Dee didn't know a stranger. She was a homemaker and caretaker the majority of her adult life. From caring for her own family and friends to making a career out of doing what she truly loved most. Including, working in group homes for special needs adults to becoming a house parent for troubled and homeless children and teenagers.
Arrangements were entrusted to Michael W. Cox, Cox Funeral Home; 218 South Meridian Street; Jasonville, IN; coxfuneralhomejasonville.com.
Graveside Services were 1 p.m. Tuesday, February 7, 2017 at the Oak Grove Cemetery in Wilfred, IN with Pastor Norman Santus officiating.
Facebook Comments