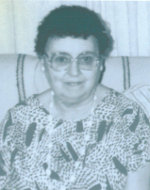 ELSIE L. (MATTOX) DEAN, 91, of Coalmont, Indiana passed away at 2:55 a.m. January 17, 2011 in Millers Merry Manor in Sullivan, IN. She was born October 20, 1919 in Sullivan County, Indiana to James E. Mattox and Mary Ellen (Bleavens) Mattox.
Survivors include her husband of 68 years, Melvin Dean of Coalmont, IN whom she married November 1942; son & daughter-in-law, Garry & Charolette Dean of Jasonville; daughters & son-in-law, Carole & Jim Clark of Brownsburg, IN and Sherrie Dean of Coalmont, IN; sister, Nina Branham of Trafalgar, IN; grandsons, Brent & Sherry Clark, Brian & Jenny Clark; six great-grandchildren.
She was preceded in death by her parents; brothers, Oral Mattox, Clarence Mattox, Edward Mattox and Wayne Mattox; sisters, Maudie Mattox, Edna Beadle and Ivy Lifford.
Elsie eagerly served God with all her heart. As a young girl, she and her sisters sang in the church. When her children were young, she taught Sunday School and Bible School. She attended the Assembly of God Church in Jasonville until her health failed. She then served as a prayer chain partner to pray for others in need.
Arrangements were entrusted to Michael W. Cox, Cox Funeral Home; 218 South Meridian Street; Jasonville, Indiana. Visitation was 1:30 to 2:30 p.m. Monday, February 21, 2011 at the funeral home. Memorial Services followed at 2:30 p.m. with Pastor Sam Bush officiating.
Interment was at Peavey Cemetery in Howesville, IN.
Facebook Comments