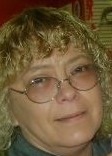 CHARLOTTE L. (NELSON) DUNCAN, 57, of Coalmont, IN passed away at 3:30 p.m. Friday, March 27, 2015 in her home in Coalmont, IN.
She was born October 13, 1957 in Brazil, IN to Don Nelson and Barbara (Willie) Nelson.
Survivors include her husband, Paul Duncan of Coalmont, IN whom she married on June 5, 1976; daughter & son-in-law, Brittany Trusty and Bruce of Jasonville, IN; son & daughter-in-law, Brandon Duncan and Shannon of Linton, IN; grandchildren, Connor and Chloe Patterson, Aydon and Brady Duncan; sister, Cindy Nelson of Coalmont, IN; brother, Billy Nelson of Elletsville, IN.
She was preceded in death by her parents, Don and Barbara (Willie) Nelson, and her brother, Shane Nelson.
Charlotte was a 1975 graduate of Shakamak High School. She worked for Baesler's in Sullivan in the deli/bakery department. Charlotte liked baking and decorating cakes, hunting for mushrooms, and playing on her computer.
Arrangements were entrusted to Michael W. Cox, Cox Funeral Home; 218 South Meridian Street; Jasonville, Indiana. Visitation was scheduled from 5-8 p.m. Monday, March 30, 2015 and 9 a.m. until service time Tuesday at the Funeral Home. Funeral Services were 1 p.m. Tuesday, March 31, 2015 with Pastor Mark Messmer officiating.
Interment was at K of P Cemetery in Hymera. IN.
Facebook Comments