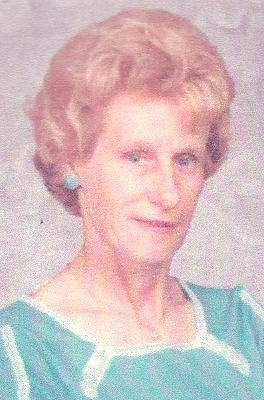 NETTA M. EDMONSON, 92, of Jasonville, Indiana passed away at 6:55 a.m. Monday, March 16, 2015 in Shakamak Good Samaritan Nursing Center, Jasonville, IN.
She was born October 15, 1922 in Linton, IN to William Higar and Magdelena (Shonk) Higar.
Survivors include her daughter & son-in-law, Judy & Larry Samm of Seelyville, IN; sons & daughters-in-law, John & Rose Ella Edmonson of Jasonville, IN, Chester & Vicki Edmonson of Linton, IN, Jim & Judy Edmonson of Jasonville, IN, Darrell & Carla Edmonson of Terre Haute, IN; many grandchildren, great-grandchildren and great-great-grandchildren; several nieces, nephews and cousins.
She was preceded in death by her parents; husband, Chester Ben Edmonson on August 9, 1978; son, Donnie Ray Edmonson in 1961; siblings and spouses, Violet & Frank Targett, Renos & Myrtle Dalton, Bessie & Bill Houchin, Lilly & Leo Gadberry, Grace & Lester Padgett, Etta Bea Eddington, Ethel & Jarod Walters, Hughy & Mildred Higar, Loy Higar.
Netta had worked at Sarkas-Tarzan in Bloomington and retired from MCL Cafeteria in Terre Haute. She had attended the First Baptist Church in Jasonville when her children were younger.
Arrangements were entrusted to Michael W. Cox, Cox Funeral Home; 218 South Meridian Street; Jasonville, Indiana. Visitation was scheduled from 5-8 p.m. Wednesday and 9 a.m. until 1 p.m. service time Thursday, March 19, 2015 at the Cox Funeral Home with Pastor Jerry Sink officiating.
Interment was at Lebanon Cemetery in Midland, IN.
Facebook Comments