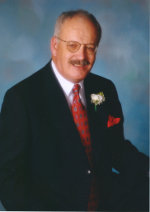 EMORY K. "PETE" TRIBBY, 68, of Farmersburg, Indiana passed away Friday, July 23, 2010 at Regional Hospital, Terre Haute, IN. He was born July 12, 1942 in Jasonville, IN to Dexter Tribby and Geneva (Keene) Tribby.
Survivors include his wife Robbie (Bex) Tribby of Farmbersburg, IN whom he married May 22, 1999; sons, Bruce Tribby of Indianapolis, IN and Andy Tribby of Indianapolis, IN; step-son, Joshua Gioe of Coral Springs, FL; step-daughter, Angel Gioe of Coral Springs, FL; aunts:, Effie Nash of Terre Haute, IN, and Hilda Keene of Jasonville, IN; nephews, Robert "Bobby" & Karen Tribby and Mike & Judy Tribby; several generations of nieces and nephews. He was preceded in death by his parents and a brother, Robert "Bob" Tribby.
Pete owned and operated a local tax service and bookstore. Graduated IU with a Master's in Business, was a member of Linton Elks, member of the Shakamak Chamber of Commerce and served in many capacities over the years since his return to Jasonville. Pete was an avid reader, loved to work crossword puzzles and enjoyed the Theatre especially musicals. He was a wealth of trivia including historical points of several of the local golf courses.
Arrangements were entrusted to Michael W. Cox, Cox Funeral Home, 218 South Meridian Street, Jasonville, IN. Visitation was 6-8 p.m. Sunday and 9 a.m. until service time Monday at the Funeral Home. Funeral Services were 11 a.m. Monday July 26, 2010 with Rev. Ron Riggs officiating. Interment was in Lebanon Cemetery in Midland, IN. Contributions were made in lieu of flowers to the American Heart Association.
Facebook Comments