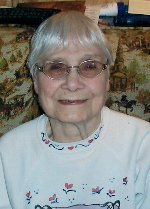 ESTELLA IMOGENE THOMAS, 94, passed away at 8:00 p,m, Monday, June 29, 2009 at the Shakamak Good Samaritan Nursing Center, Jasonville, Indiana. She was born February 13, 1915 in Waveland, Indiana to George E. Good and Olus (Martin) Good. She was married in 1934 to Chester Thomas who preceded her in death on October 14, 1976.
Survivors include her daughters, Janet Thomas Myers of Marshall, IN and Judy Harvey of Wallace, IN; son, Tom & Dale M. Lutes Thomas of Jasonville, IN; grandchildren, Brent L. Myers, Jeff Myers, and Lora Wallace; eight great-grandchildren, and one great-great-grandson. She was preceded in death by her parents; husband; brother, Tom Good; Grandson, Timothy M. Myers; granddaughter, Myra L. Tyler; and son-in-law, Myron L. Myers.
Estella was a homemaker and used to work as a seamstress at Martin Cleaners in Rockville for 10 years in her early years.  Estella bred, showed, and sold Collies through Spice Rack Collies Kennel and had several champions that came from her bloodlines throughout the United States and Canada during 57 years. Her family had a booth for 50 years at the Covered Bridge Festival and for 3 years at Billie Creek Village.
Memorial Services were held at the New Life Wesleyan Church in Mecca, Indiana at a later date. Arrangements were entrusted to Michael W. Cox, Ferguson-Lee Inc., Haverly Chapel.
Facebook Comments