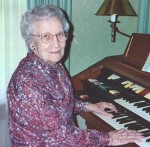 FERNIE EUGENIA (Miller) MARLOW, 93, of Coalmont, Indiana passed away at 1:37 p.m. Tuesday, August 17, 2010 at Regional Hospital, Terre Haute, IN. She was born November 20, 1916 in Coalmont, IN to Alex Miller and Delia Ann (Malone) Miller. She married Roy Marlow on May 10, 1934 and he preceded her in death on December 6, 1974.
Survivors include a son & daughter-in-law, Jerry & Kay Marlow of Greenwood, IN; grandsons, Jerry Jay & Deborah Marlow of Fort Wayne, IN and Scott Alan & Maureen Marlow of Trafalgar, IN; three great-granddaughters, Amber & Ryan Frick, Bridget Marlow & Tara Marlow and three great-grandsons, Bradley Marlow, Connor Marlow, & Aidan Marlow; one great-great-grandson, Malachi Frick; sister & brother-in-law, Barbara & Edwin Wiley of Milwaukee, WI; four nephews and two nieces. She was preceded in death by her parents; husband; and sister, Helen Brenton.
Fernie retired at age 65 after spending many years of her life working as a secretary & bookkeeper for a number of organizations as well as Allis Chalmers and Gillis Memorial Chapel. She attended Jasonville First Baptist Church for 30 years, Coalmont Baptist Church for 35 years, was a 50 year member of O.E.S. Jasonville Lodge, and a 65 year member of American Baptist Missionary Church's.
Arrangements were entrusted to Michael W. Cox, Cox Funeral Home, 218 South Meridian Street, Jasonville, IN. Visitation was 10 a.m. until 1 p.m. service time Friday at the funeral home. Funeral Services were 1 p.m. Friday, August 20, 2010 with Pastor Brad West officiating. Interment was in K of P Cemetery, Hymera, IN. Contributions were made in lieu of flowers to Alzheimer's Association or a charity of choice.
Facebook Comments