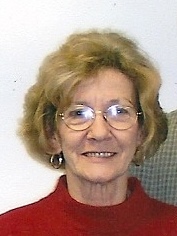 PATRICIA ANN "GRANNY PAT" FOUGEROUSSE, 73, of Jasonville, Indiana went home to be with the Lord at 8:23 p.m. Tuesday, February 27, 2018 in Union Hospital, Terre Haute.  
She was born October 26, 1944 in Linton, IN to Willard Stough and Virginia (Fulk) Terhune.
Survivors include her husband of 56 years, Larry J. Fougerousse of Jasonville who she married on May 20, 1961; sons, Todd Fougerousse of Jasonville, Troy Fougerousse (Lora) of Jasonville, Tate Fougerousse of Jasonville; grandchildren, Halea Franklin (Wes), Ashley Kramer (Kurt), Casey Fougerousse, Logan Fougerousse, Kage Fougerousse, Lacy Prell, Addison Fougerousse; great-grandchildren, Brooklyn Franklin, Wrigley Franklin, Tyler Franklin, Brynley Franklin, Kash Kramer, Preslee Kramer, Paislee Kramer, Jaxon Fougerousse; sisters and brothers-in-law, Emmadell McQueary (Garrett) of Jasonville, Tammy Norris (Alan) of Jasonville; special care-giver, Babbs Bellgraph; several nieces and nephews.
She was preceded in death by her parents and step-father, Leo Terhune.
Pat was the only woman Plant Manager at Charles Industries, she also worked at Shakamak State Park. She was a member of Providence Baptist Church. She enjoyed vacationing in Naples, FL and Myrtle Beach, SC, playing cards, bingo, painting, crafting and Sunday dinners with the family.
Arrangements were entrusted to Michael W. Cox, Cox Funeral Home; 218 South Meridian Street; Jasonville, IN; coxfuneralhomejasonville.com. Visitation was scheduled from 5 to 8 p.m. Friday and 9 a.m. Saturday until time of service. Funeral Services were 11 a.m. Saturday, March 3, 2018 at the Cox Funeral Home with Pastor Darren McDonald and Pastor Darren Sluder officiating.
Interment was at Lebanon Cemetery in Midland, IN.
Facebook Comments