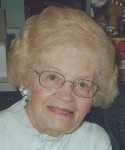 GLADYS (Cotton) GRABNER, 89, of Bloomington and formerly of Jasonville, Indiana passed away at 9:00 p.m. Monday, September 27, 2010 at the Bell Trace Health and Living Center in Bloomington. She was born October 26, 1920 in Lafayette, Colorado to Isaac Cotton Sr. and Mary Teresa (Green) Cotton. She married Paul Grabner on May 2, 1942 and he preceded her in death on March 12, 2009.
Survivors include a daughter & son-in-law, Deanie & Bob Ferguson and son & daughter-in-law, Fred & Nancy Grabner both of Bloomington, IN; grandchildren, Melissa (Chuck) Hagen, Kurt (Katey) Grabner, Chad (Tracey) Grabner, Mike (Ann) Grabner, Greg (Victoria) Grabner, Chris Grabner, Tammy (Jim) Smith, Robert Ferguson, and Jim Ferguson; nine great-grandchildren and two great-great-grandchildren; sisters-in-law, Blanche Grabner of Jasonville, IN and Beverly Cotton of Fairview, Ohio; several nieces and nephews. She was preceded in death by her parents; husband; sister, Madeline Briggs; and brother, Isaac Cotton Jr.
Gladys was a homemaker, was a member of Pythian Sisters, Triads, Delta Thata Tau (Delts) O.E.S. where she served as Worthy Matron, District Deputy, Rainbow Girl Advisor; PTA President, Democratic Women's Club, Cub Scout Den Mother and the Jasonville Chamber of Commerce.
Arrangements were entrusted to Michael W. Cox, Cox Funeral Home, 218 South Meridian Street, Jasonville, IN. Visitation was 6-8 p.m. Friday with O.E.S. services at 7 p.m. and Saturday 9 a.m. until service time at the Funeral Home. Funeral Services were 11 a.m. Saturday, October 2, 2010 with Pastor Brad West officiating. Interment was in Lebanon Cemetery Midland, IN.
In lieu of flowers memorial contributions were made to Hospice of Bloomington Hospital.
Facebook Comments