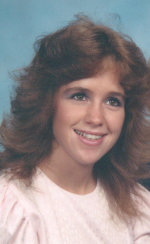 DEBBIE IRENE JACKSON, 46, of Terre Haute, IN and formerly of Linton passed away at 9:15 a.m. Thursday, January 27, 2011 in her residence. She was born May 6, 1964 in Linton, IN to Donald Dean Jackson and Norma O. (Gadberry) Jackson.
Survivors include her daughter, Brittany Slater of Farmersburg, IN; sons & daughter-in-law, Travis Creech of Terre Haute, IN and Jeremy & Lynsey Slater of West Lafayette, IN; brothers, Robert Jackson of Linton, IN and Derrick Jackson of Linton, IN; father, Donald Dean Jackson of Las Vegas, NV; mother, Norma Jackson of Linton, IN; fiancé, Jeffrey Pair of Terre Haute, IN; several nieces, nephews, aunts and uncles.
She was preceded in death by her sister, Rita Crysell; aunt, Betty Jean Jackson; maternal grandparents, Osa & Irene Gadberry; and paternal grandparents, Homer & Nora Jackson.
Debbie had previously worked at Sony for five years, Fed Ex Ground and at the Indianapolis Speedway during the 500 race season for several years. She attended Ivy Tech and ISU in Terre Haute for two and a half years. She attended the Church of God on Thompson Street in Terre Haute, IN.
Arrangements were entrusted to Michael W. Cox, Cox Funeral Home; 218 South Meridian Street; Jasonville, Indiana with Visitation scheduled from 5-8 p.m. Sunday and 9 a.m. until service time Monday at the Funeral Home. Funeral Services were 1 p.m. Monday, January 31, 2011 at the Cox Funeral Home with Pastor Sam Bush officiating.
Interment was at the Fairview Cemetery in Linton, IN.
Facebook Comments