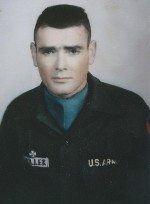 KENNETH L. MILLER, 75, of Jasonville, Indiana passed away at 10:26 a.m. Wednesday, August 18, 2010 in Union Hospital, Terre Haute, IN. He was born December 22, 1934 in Shelburn, IN to Orval E. Miller and Ethel F. (Rilenge) Miller.
Survivors include his wife Marlene K. (DeHart) Miller of Jasonville, IN whom he married March 20, 1971; daughters & sons-in-law, Amanda Sevier & Erin of Linton, IN, Melissa Lowe & Tod of Terre Haute, IN, Malinda Miller & Brock of Lewis, IN; sister, Betty Bridges of Jasonville, IN; grandchildren, Jacob Sevier, Grace Lowe, Kenny Lowe, Adeline Miller, Natalie Miller, Miranda Miller; many nieces, nephews & cousins.  He was preceded in death by his parents; brother, Ernest Miller;  sister, Bernice Griffith.
Kenneth retired from the U.S. Army as a SGT 1st Class and as a custodian for the Vigo County Library. During his military service Kenneth received the Bronze Star, Purple Heart, and numerous other commendations. He loved spending time outdoors and with his grandchildren fishing, watching Colts football, & Pacer basketball and cooking, especially Sunday dinner.
Arrangements were entrusted to Michael W. Cox, Cox Funeral Home, 218 South Meridian Street, Jasonville, IN. Visitation was 5-9 p.m. Saturday and 1 p.m. until service time on Sunday at the funeral home. Funeral Services were 2 p.m. Sunday August 22, 2010 with Pastor Jason Hill officiating. Interment was in Friendly Grove Cemetery, Lewis, IN with military graveside rites.
Facebook Comments