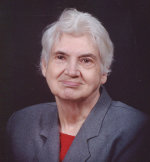 DORIS MAY MARSHALL, 77, of Jasonville, Indiana passed away at 5:30 a.m. Sunday, November 20, 2011 in Glenburn Nursing Home Linton, IN.
She was born August 20, 1934 in Greene County, IN to Charles Marshall and Margaret (Killion) Marshall.
Survivors include her sister, Nancy Marshall of Jasonville, IN and several nieces and nephews.
She was preceded in death by her parents; two sisters, Patsy Kirby and Louise (Susie) Phillips.
Doris was a seamstress, having worked in her early years at Form-fit in Jasonville. She was a member of the Jasonville Assembly of God Church.
Arrangements were entrusted to Michael W. Cox, Cox Funeral Home; 218 South Meridian Street; Jasonville, Indiana.
Graveside Services were 10 A.M. Wednesday, November 23, 2011 at the Lebanon Cemetery in Midland, IN with Pastor Sam Bush officiating.
In lieu of flowers, the family requested contributions be made to the Jasonville Senior Citizen's Center where Doris did volunteer work for many years. Envelopes were available at the funeral home.
Facebook Comments