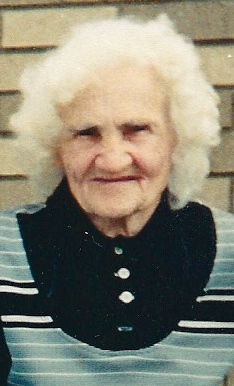 ETHEL JUNE (SPARKS) MATHERS, 91, of Jasonville, Indiana passed away at 11:43 a.m. Saturday, December 20, 2014 in Greene County General Hospital in Linton, IN.
She was born May 9, 1923 in Clay County, IN to Harry Webster Sparks and Bessie Lola (Bedwell) Sparks.
Survivors include her sons, Richard Mathers, William Eugene Mathers and Bobby Lee Mathers all of Jasonville, IN; step-daughter, Sharon Wier of Jasonville, IN; grandchildren, Tina Mattox, Kelly Hutchens and Kristal Mathers; 14 great-grandchildren; sister, Clara Coverstone of Jasonville, IN; several nieces & nephews.
She was preceded in death by her parents; husband, Herman Andrew "Dick" Mathers who passed away on December 18, 1968; sister, Betty Sluder; brother, George Sparks.
Ethel worked as a custodian at Metropolitan School District of Shakamak, she also cleaned the Jasonville United Methodist Church and Lebanon Baptist Church.
Arrangements were entrusted to Michael W. Cox, Cox Funeral Home; 218 South Meridian Street; Jasonville, Indiana. Funeral Services were 10 a.m. Tuesday, December 23, 2014 at the Funeral Home with Pastor Sam Bush officiating.
Interment was at Lebanon Cemetery in Midland, IN.
Facebook Comments