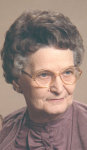 AUGUSTA M. GRIFFITH MILLER, 98 of Coalmont, Indiana passed away at 4.20 p.m. Saturday, December 4, 2010 in her residence. She was born March 12, 1912 in Coalmont, IN to Otho Earlywine and Nora Elizabeth (Terry) Earlywine.
Survivors include daughters & sons-in-law, Kay & Jerry Marlow of Greenwood, IN and Gail & Allen Slankard of Terre Haute, IN; son & daughter-in-law, Terry & Judy Griffith of Worthington, IN; daughter-in-law, Mahala Griffith of Florida; sister-in-law, Mary Griffith of Jasonville, IN; 11 grandchildren; 29 great-grandchildren; 9 great-great- grandchildren; and a few nieces & nephews. She was preceded in death by her parents; first husband, Henry L. "Ernie" Griffith on June 10, 1978 and second husband, B. Lester Miller on March 4,1996; son, Con Griffith; daughter in-law, Pat Griffith; two infant grandsons; brothers, Harold Earlywine and Loris Earlywine.
Augusta worked as a clerk and cashier in the grocery business for many years. She attended and was a member of the Coalmont Baptist Church and later the Lawton Street Christian Church.
Arrangements were entrusted to Michael W. Cox, Cox Funeral Home, 218 South Meridian Street, Jasonville, IN.Visitation was 5-8 p.m. Wednesday and 9 a.m. until service time Thursday at the funeral home. Funeral Services were 2 p.m. Thursday, December 9, 2010 at the funeral home with Pastor Brad West officiating. Interment was in Case Cemetery at Hymera, IN.
Facebook Comments