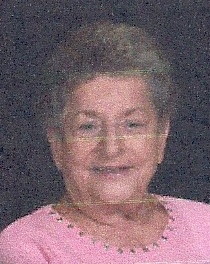 VIRGINIA L. MORRIS, 91, of Midland, Indiana passed away at 5:52 p.m. Friday, December 12, 2014 in Greene County General Hospital, Linton, IN.
She was born July 12, 1923 in Kendallville, IN to Leland Charles Hastings and Annette (Courchaine) Hastings.
Virginia married Jack Richard Morris on April 11, 1942 and he passed away February 1992.
Survivors include her sons & daughter-in-law, Mike & Rose Ann Morris of Odon, IN, Tim Morris of Martinsville, IN; 14 grandchildren; 25 great-grandchildren; 6 great-great-grandchildren; many nieces & nephews.
She was preceded in death by her parents; husband; sons, Patrick Morris, Kim Morris; daughter, Julie Morris; step-grandson, Josh Harlow; brothers, Harold Hastings, Donald Hastings; great-great-grandchild, Rylan.
Virginia was a graduate of Fort Wayne Southside High School. She had previously worked at the Fort Wayne G.E. Plant and was a homemaker. She was a member of the St. Joan of Arc Catholic Church in Jasonville, IN and received the Brute' Award from the Catholic Diocese. She enjoyed watching her soap operas and loved fishing.
Arrangements were entrusted to Michael W. Cox, Cox Funeral Home; 218 South Meridian Street; Jasonville, Indiana. Visitation was scheduled from 10 a.m. until 12:30 p.m. Wednesday at the Cox Funeral Home. Funeral Services immediately followed Visitation at the St. Joan of Arc Catholic Church at 1 p.m. Wednesday, December 17, 2014 with Father Frank Renner officiating.
Interment was at Lebanon Cemetery in Midland, IN.
Contributions were made in memory of Virginia to The Hope Center Foundation, American Heart Association, National Parkinsons Foundation, St. Joan of Arc Catholic Church. Envelopes were available at the funeral home.
Facebook Comments