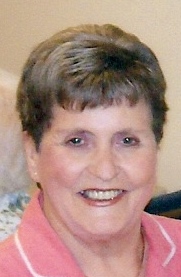 EFFIE B. OSIA, 83, of Jasonville, IN passed away at 11:10 p.m. Saturday, April 4, 2015 in her home in Jasonville, IN.
She was born June 15, 1931 in Plevena, AL to Jim McCormick and Flossie (Newby) McCormick.
Survivors include her husband of 64 years, Clifford J. Osia of Jasonville, IN whom she married on December 2, 1950; daughter, Paula S. Morris of Jasonville, IN; son, Christopher James Osia of Columbus, GA; grandsons, Ryan W. Morris and Scott C. Morris; great-grandchildren, Dylan Morris, Jacob Morris, Avery Morris, Brent Underwood, Mateo Morris-Bedoya, and Joaquin Morris-Bedoya; sisters & brothers-in-law, Dot and John Peterson of Owensboro, KY, Ruth and Calvin Gowen of Texas, and Susie Williams of Huntsville, AL; brother & sister-in-law, Jim McCormick and Carolyn of Huntsville, AL; and several nieces, nephews & cousins.
She was preceded in death by her parents, Jim and Flossie McCormick; sisters, Lilly Cox; Louise; Lois; Marilyn; and Margaret.
When Effie graduated from high school, she attended J.C. Calhoun Junior College in Decator, AL where she received a degree in Nursing. She worked for Shakamak Good Samaritan Nursing Home. Effie was a member of St. Joan of Arc Catholic Church. She loved her flowers and gardening. She also enjoyed cooking and playing bingo.
Arrangements were entrusted to Michael W. Cox, Cox Funeral Home; 218 South Meridian Street; Jasonville, Indiana. Visitation was scheduled from 5-8 p.m. Tuesday, April 7, 2015. There was a Rosary service Tuesday evening at Cox Funeral Home at 7 p.m. Funeral Services were at 10 a.m. Wednesday, April 8, 2015 at St. Joan of Arc Catholic Church with Father Renner officiating.
Interment was at Lebanon Cemetery in Midland, IN.
Facebook Comments