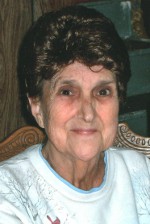 EMILY JO PADGETT, 67, of Jasonville, Indiana passed away at 2:10 p.m. Monday, December 12, 2011 in her residence.
She was born April 6, 1944 in Linton, IN to Thomas Archie Hoard and Florence (Long) Hoard.
Emily married Donald Lee Padgett on August 24, 1962 and he passed away in 1985.
Survivors include her sons, Donald Lee Padgett of Indianapolis, IN, David Wayne Padgett of Jasonville, IN; daughter, Lisa Ann Padgett & Jerry Saude of Jasonville, IN; grandchildren, Victoria Padgett, Kurt Joseph Padgett, Donna Lynn Saude; sister & brother-in-law, Patti Irene & James Ramey of Linton, IN; brothers, Charles H. Hoard of Jasonville, IN, Thomas James Hoard of Jasonville, IN; half-sisters, Gladys Cunningham of Madisonville, KY, Helen Moss of IL; niece & nephews, Tammy A. Mifflin of Linton, IN, Robert E. Steed of Jasonville, IN, Timmy D. Wogoman, Jr. of Jasonville, IN.
She was preceded in death by her parents; husband; sister, Sonija K. Ward; infant son, Tony Allen Padgett.
She was a homemaker and a member of the Jasonville American Legion Auxiliary Post #172. Emily's great love was her children and grandchildren.
Arrangements were entrusted to Michael W. Cox, Cox Funeral Home; 218 South Meridian Street; Jasonville, Indiana with Visitation scheduled from 5-9 p.m. Friday. Funeral Services were 10 a.m. Saturday, December 17, 2011 at the Cox Funeral Home with Evangelist James Ramey and Pastor Mark Messmer officiating.
Interment was at Lebanon Cemetery in Midland, IN.
In lieu of flowers contributions were made to the American Cancer Society.
Facebook Comments