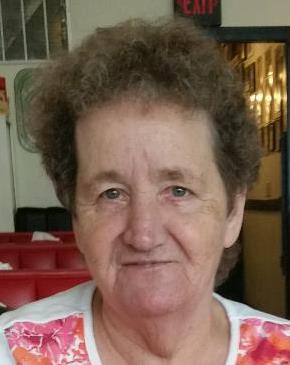 ROSEMARIE PIERCE, 75, of Jasonville, Indiana went home to be with the Lord surrounded by her children at 2:30 a.m. Tuesday, March, 17, 2015 in Signature Health Care of Terre Haute, IN.
She was born September 12, 1939 in Dayton, Ohio to Kenneth R. Hudson and Doris (Pancake) Hudson.
Rosemarie married Donald Wayne Pierce on May 15, 1954 and he passed away on September 6, 2013.
Survivors include her daughter & son-in-law, Nancy & Tim Fougerousse of Jasonville, IN; sons & daughters-in-law, Donald & Susana Pierce of Bedford, IN, John & Karen Pierce of Jasonville, IN, David Pierce of Jasonville, IN, Roger & Bobbi Pierce of Linton, IN, Paul & Jaci Pierce of Jasonville, IN; grandkids, Anna Schoppert, Juliana Pierce, Kristina Avila, Jennifer Jackson, Mark Pierce, Jessica Whelehon, Amanda Pierce, Josh Pierce, Lois Ann Bilyeu, Dylan Bilyeu, Larissa Fougerousse, Donald Pierce, Miranda Pierce, Leigha Pierce, Lyndsey Pierce, Kayla Pierce; 17 great-grandkids; aunt, Ruth Cole of Indianapolis, IN; sister-in-law, Dorothy (Hudson) Quate of Yorktown, IN; sister-in-law & brother-in-law, Ruth Ellen & Nilan "Buck" Wilson of Linton, IN; brother-in-law, Charles "Bud" White of Switz City, IN; best friend and neighbor, Sonnie (Pittman) Villian of Jasonville, IN; many nieces, nephews and cousins.
She was preceded in death by her parents; husband; brothers, David L. Hudson, Kenneth R. Hudson, Jr., Robert Hudson, Johnny Hudson; sister, Joyce E. Smith.
Rosemarie was a homemaker. She lived for her children, grandchildren and great-grandchildren. She enjoyed bingo and loved music.
Arrangements were entrusted to Michael W. Cox, Cox Funeral Home; 218 South Meridian Street; Jasonville, Indiana. Visitation was scheduled from 5-8 p.m. Thursday and 9 a.m. until 1 p.m. service time Friday at the Funeral Home. Funeral Services were 1 p.m. Friday, March 20, 2015 at the Cox Funeral Home with Pastor Don Pierce and Pastor Darren McDonald officiating.
Interment was at Antioch Cemetery in Rural Dugger, IN.
Facebook Comments