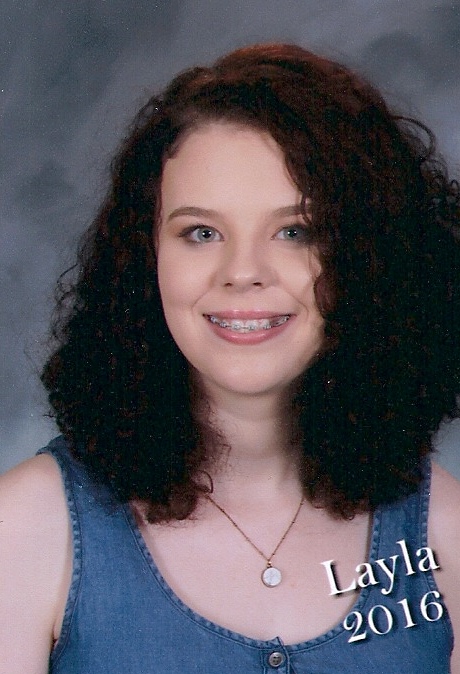 LAYLA MICHELLE-ANN RAINES, 15, of Jasonville, Indiana blessed this earth on August 16, 2001 in Linton, IN. She left to fly with the Angels at 1:47 p.m. Wednesday, May 31, 2017 in Regional Hospital, Terre Haute, IN. 
Layla was a girl that held a heart as big as the world and a smile that could light it. Layla quite simply loved love and she held every creature on this earth dear to heart. Layla was in awe of the beauty of this world and she took in every single second of it. She loved living and encouraged others to do the same. She is soaring above us now taking it all in.
Layla was a student at Shakamak High School where she was at the top of her class. She was involved in track, cross country and show choir.
Keep singing with the Angels, baby. She leaves behind, her mom and dad, Brandy (Passen) Raines and Mark Raines; her bubby, her knight in shining armor, Christian Raines; maternal grandma, granny Mildred Jones, maternal grandfather, John Passen; maternal great-grandmother, Betty Swayze; aunt and uncle, Samantha and Nick Mahan; uncle and aunt Zack and Sadie Passen; cousins, William, Phoebe, Luke, Leanna and David; special friend, partner in crime, Addie Miller. She also leaves behind paternal grandparents, Vernon and Sharon Raines; paternal great-grandfather, Bob Borders; uncle and aunt, Jim and Jill Raines; aunt and uncle, Amber and Paul Weathers; cousins, Kyia and Khloe and soon to join this world Amari. She also leaves behind many great-aunts, great-uncles, and second cousins that all meant the world to her.
Leaving this world before her and to hold her place in heaven are, maternal great-grandparents, Eck and Rose Young; maternal great-grandfathers, Jake Passen and Loryn Swayze; paternal great-grandmother, Bonnie Borders; paternal great-grandparents, Orval and Marjorie Raines.    
Arrangements were entrusted to Michael W. Cox, Cox Funeral Home; 218 South Meridian Street; Jasonville, IN; coxfuneralhomejasonville.com. Visitation was scheduled from Noon to 5 p.m. Sunday at the funeral home. Funeral Services immediately followed visitation at 5 p.m. Sunday, June 4, 2017 at the Cox Funeral Home with Pastor Mark Messmer officiating.
Cremation followed.
A Celebration of Life immediately followed Funeral Services at the Shakamak State Park Bridges between the Lakes.
Facebook Comments