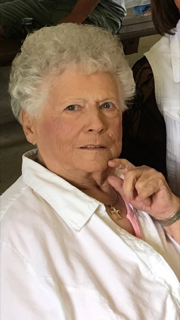 ROBERTA J. REHMEL, 88, of Jasonville, Indiana passed away at 8:34 p.m. Thursday, March 9, 2017 in Union Hospital, Terre Haute, IN.  
She was born August 2, 1928 in Coalmont, IN to Orville Crosby and Mayme (White) Crosby.
Roberta married Linus D. Rehmel on December 28, 1946 and he passed away on March 27, 1997.
Survivors include her children and spouses, Jane & Rick Sapp of Homewood, IL, Sharon Postin of Linton, David & Tammy Rehmel of Lewis, Jeannie Gray of Coalmont, Dennis & Rita Rehmel of Linton, Don & Jackie Rehmel of Lewis, Kenny Joe & Jamie Rehmel of Coalmont, Randy & Debbie Rehmel of Jasonville, Chris & Linya Rehmel of Jasonville, Pam Netherlain & Todd Martin of Jasonville; 46 grandchildren; 57 great-grandchildren; 2 great-great-grandchildren; brother and sister-in-law, Stanley & Edna Crosby of Melbourne, FL; special family member, Douglas Netherlain of Jasonville; nieces, nephews and cousins.
She was preceded in death by her parents; husband, Linus Rehmel; son, Ronald Lee Rehmel; sister & brother-in-law, Jane & Frank West; brother & sister-in-law, Jack & Alvena Crosby; son-in-law, Hibbitt Postin.
Roberta was a graduate of Coalmont High School Class of 1946. She was a homemaker. Roberta was a member of Shiloh Assembly of God Church. She loved to play euchre, read, go out to eat and go to church.
Arrangements were entrusted to Michael W. Cox, Cox Funeral Home; 218 South Meridian Street; Jasonville, IN; coxfuneralhomejasonville.com. Visitation was scheduled from 4 to 8 p.m. Monday and 11 a.m. until service time Tuesday at the Funeral Home. Funeral Services were 1 p.m. Tuesday, March 14, 2017 at the Cox Funeral Home with Pastor Dick Smith officiating.
Interment was at K of P Cemetery in Hymera, IN.
Facebook Comments