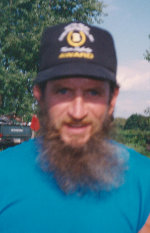 TIMOTHY "LAMONT" R. REHMEL, 52, of Jasonville, Indiana passed away at 10:22 a.m. Monday, January 24, 2011 in Union Hospital Terre Haute, Indiana. He was born September 30, 1958 in Sullivan, Indiana to Raymond L. Rehmel and Norma L. (Godfrey) Rehmel Hamilton.
Survivors include best friend, Kim Jackson of Jasonville; mother, Norma L. Rehmel Hamilton of Jasonville; daughter & son-in-law, Jan & Pat Gilbert of Lewis, IN; son & daughter-in-law, Michael & Belinda Rehmel of Worthington, IN; grandchildren, Nichole Gilbert, Derek Gilbert, Lacey Gilbert and Erica Gilbert; Whitney Rehmel and Devin Rehmel; great-grandsons, Cole Patrick Gilbert and Case Langford; sister, Deborah K. Landis of Jasonville; step-brother, Tracy Hamilton of Jasonville; grandmother, Helen A. Godfrey of Jasonville; aunts and uncles, Bob Godfrey of Jasonville, Judy & Paris Bandy of New Palestine, IN, Everett & Pauline Rehmel of Jasonville and June Rehmel of Jasonville.
He was preceded in death by his father; brother, John Rehmel; step-father, Jasper Hamilton.
Tim worked as a coal miner and then farmed with Matt Hockman of H & H Farms. He attended the Jasonville Church of God.
Arrangements were entrusted to Michael W. Cox, Cox Funeral Home; 218 South Meridian Street; Jasonville, Indiana. Visitation was scheduled from 5-8 p.m. Wednesday and 9 a.m. until service time Thursday at the Funeral Home. Funeral Services were 11 a.m. Thursday, January 27, 2011 at the Cox Funeral Home with Pastor Jonathan Heard officiating.
Interment was at the Lebanon Cemetery in Midland, Indiana.
Facebook Comments