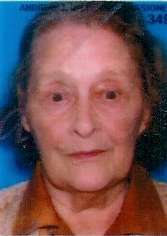 BETTY J. "TATTS" RHODERICK, 91, of Indianapolis and formerly of Jasonville, IN passed away at 3:00 p.m. Friday, June 30, 2017 in Westminster Village North in Indianapolis.  
She was born June 15, 1926 in Howesville, IN to John E. Eccles and Juanita Eccles.
Betty married George M. Rhoderick on September 1, 1945 and he passed away on February 17, 2013.
Survivors include her son and daughter-in-law, David & Tamara Rhoderick of Indianapolis; grandchildren, David & Shannon, Matt, Brandon, Jacob & Ellie; great-grandson, Zachary Oaks; brother, Charles F. "Chuck" Eccles of Plainfield; sister-in-law, Dorothy Eccles of Jasonville.
She was preceded in death by her parents; husband; sister, Joanna Mae Eccles; brothers, William T. Eccles, Don E. "Doc" Eccles; great grandson, Alexander Oaks.
Betty was a homemaker. She was a Philanthropist donating to many organizations including Native American Children-Share Club-Jewish Relief Organizations.  Her true love was her family, friends and her flowers. 
Arrangements were entrusted to Michael W. Cox, Cox Funeral Home; 218 South Meridian Street; Jasonville, IN; coxfuneralhomejasonville.com. Visitation was scheduled from Noon to 2 p.m. Tuesday, July 11, 2017 with Funeral Services immediately following visitation at 2 p.m. at the Cox Funeral Home with Pastor Mike Rotman officiating.
Interment was at Lebanon Cemetery in Midland, IN.
Live plants were preferred in lieu of flowers. Contributions were made in memory of Betty, to Jasonville Senior Citizens Center. Envelopes were available at the funeral home.                                   
Facebook Comments