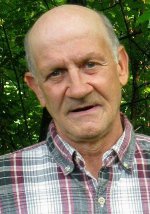 ROGER  WILLIAM  KELLER, 56, of Paris, Illinois passed away at 6:30 p.m. Thursday, August 19, 2010 in his home. He was born December 9, 1953 to Alfred Pearl Keller and Ruth (Edelman) Keller.
Survivors include a daughter & son-in-law, Christina & Matt Tretten of Longmont, CO and granddaughter, Addison Tretten; sisters, Phyllis Wrate of Cory, IN, Wilma Rasmussen of Bellingham, WA, Frances Shaver of Lexington, KY and Sue Williams of Paris, IL; brothers, Charles Keller of Dayton, TN and Ron Keller of Eaton Rapids, MI; also mourning his loss are Mary Lou Pitts of Paris, IL and her daughters Monica & Jennifer and grandchildren Toni & Cole; numerous nieces and nephews. He was preceded in death by his parents.
Arrangements were entrusted to Michael W. Cox, Cox Funeral Home, 218 South Meridian Street, Jasonville, IN. Visitation was 11 a.m. until service time Monday at the funeral home. Funeral Services were 2 p.m. Monday, August 23, 2010. Interment was in the Edelman Cemetery, Jasonville, IN.
Contributions in lieu of flowers were made to the Lincolnland Hospice of Sarah Bush Lincoln, 700 Broadway Ave. E., Mattoon, IL 61938.
Facebook Comments