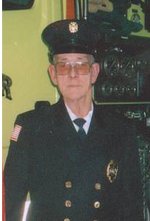 RUSSELL LEON "TUFFY" KELLER, 64, of Jasonville, Indiana passed away at 9:50 p.m. Wednesday, September 23, 2009 at the Shakamak Good Samaritan Nursing Center in Jasonville, IN.  He was born September 9, 1945 in Greene County, IN to Clarence Keller and Rose Ellen (Shields) Keller.
Survivors include his wife, Carolyn (Denny) Keller of Jasonville whom he married May 23, 1970; sons & daughter-in-law, Brett & Teresa Keller of Jasonville and Michael Keller of Jasonville; daughter & son-in-law, Lori & Bill Stephenson of Jasonville; grandchildren, Ashley Keller, Ariel Stephenson, Arena Keller and Skylar Keller;  brothers & sisters-in-law, Harold "Pude" Keller, Roy Keller, Marvin & Linda Keller, Paul & Sharon Keller, & Joe Keller;  aunts, uncles and several nieces, nephews and cousins. He was preceded in death by his parents; son, Rusty Keller and a sister-in-law, Marjorie Keller.
Russell had been a very hard worker all of his life and was involved in several different jobs. He served on the Jasonville Police Department for several years. He was Captain on the Jasonville Fire Department for 30 years where he served 31 1/2 years retiring in 2006 due to health problems. He had worked as a mechanic all of his life working for several different garages. His last job was at J & D used cars where he worked until the place went out of business in 2007. Russell liked staying busy and being involved in everything. He was a good husband, father and grandfather. He loved spending time with his granddaughters. His favorite years were spent watching his oldest granddaughter play softball. He also loved to go fishing, hunting and camping.
Visitation was 5-9 p.m. Sunday with IVFA Memorial Service at 7 p.m., also noon until 2 p.m. service time Monday, September 28, 2009 all at the Lawton Street Christian Church in Jasonville with Pastors Mark Messmer, Darren Sluder and Sam Bush officiating. Interment was in Peavey Cemetery in Howesville, IN. Arrangements were entrusted to Michael W. Cox, Ferguson-Lee Inc., Cox Chapel
Facebook Comments