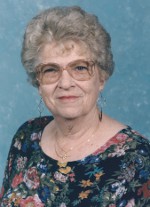 SHIRLEY K. STEWART, 76, of Jasonville, Indiana passed away at 5:00 a.m. Saturday, July 10, 2010 in Greene County General Hospital, Linton, IN. Born January 1, 1934 in Howesville, IN to Joseph W. Neal and Dorothy A. (Hardesty) Neal. Shirley married Rex Stewart in 1964 and he passed away on April 15, 1999.
Survivors include daughters, Linda Singleton and India Dailey (Bill Drew) both of Jasonville, IN; son, Kevin Stewart (Angel) of Jasonville, IN; son-in-law, Tim Tucker of Linton, IN; brother, Larry Neal of Hymera, IN; sister, Sharon Sexton of Jasonville, IN; grandchildren, Shasta Keller, Shawna Singleton, Lisa McQueary, Dave Dailey, Sabrina Drew, Brandy Edelman, Danielle Tucker, Skye Stewart, and Kade Stewart; sister-in-law, Shirley A. Stewart of Jasonville, IN, Peggy Caddell of Terre Haute, IN; brother-in-law, Gerald Stewart of North Carolina; eight great-grandchildren; several nieces and nephews. She was preceded in death by her  parents; husband; daughter, Dottie Tucker; great-grandchild, China McQueary; and sister-in-law, Anna Neal.
Shirley was a floral designer for Cy Marlow in Jasonville & Linton and worked with Joy Matherly and Sharon Sexton's Shop. She did oil painting and was a talented artist and was also a member of the Jasonville Assembly of God Church.
Arrangements were entrusted to Michael W. Cox, Cox Funeral Home, 218 South Meridian Street, Jasonville, IN. Visitation was 3-6 p.m. Monday at the Jasonville Assembly of God Church with Memorial Services following at 6 p.m., July 19, 2010 with Pastor Sam Bush officiating.
Facebook Comments