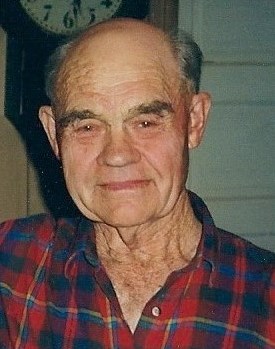 WARREN E. SMITH, 93, of Jasonville, Indiana passed away at 10:40 p.m. Wednesday, April 6, 2016 in Shakamak Good Samaritan Nursing Center, Jasonville, IN.
He was born August 28, 1922 in Greene County, IN to John Smith and Ethel (Parker) Smith.
Survivors include his niece and husband, Rose Ella & John Edmonson of Jasonville, IN; nephew and wife, Vernon E. & Sharon Raines of Jasonville, IN; several cousins.
He was preceded in death by his parents, John and Ethel Smith; sister, Marjorie Hellen Raines.
Warren was a self-employed farmer. He always farmed and welded for himself and others.
Arrangements were entrusted to Michael W. Cox, Cox Funeral Home; 218 South Meridian Street; Jasonville, Indiana. Visitation was scheduled from 5 to 8 p.m. Saturday and Noon until 2 p.m. service time Sunday at the Funeral Home. Funeral Services were 2 p.m. Sunday, April 10, 2016 at the Cox Funeral Home with Rev. Vernon Raines officiating.
Interment was at Lebanon Cemetery in Midland, IN.
Facebook Comments