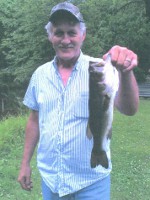 STEPHEN D. GORBY, 55, of Jasonville, Indiana passed away at 9:37 p.m. Friday, July 9, 2010 in Greene County General Hospital, Linton, IN. He was born January 14, 1955 in Terre Haute, IN to Walter E. Gorby, Jr. and Wanda L. (Bean) Gorby.
Survivors include his wife Jessica Ann (Dryer) Gorby of Jasonville, IN whom he married June 28, 1997; mother, Wanda L. Gorby of Hymera, IN; daughter, Latrisha L. Gorby of Jasonville, IN; son, Christopher C. Gorby of Vincennes, IN; grandsons, Ethan R. Gorby, Nickolas Grant Goldsberry; sisters, Vickie Kirton of Jasonville, IN, Jeannie Brown of Jasonville, IN, Nila Bose of Hymera, IN; brothers, Mike Gorby of Jasonville, IN; many aunts, uncles, nieces, nephews, cousins and in-laws. He was preceded in death by his  father, Walter E. Gorby, Jr.
Stephen had worked for the Jasonville Cord Factory in maintenance. He loved the outdoors, had hunting dogs, went fishing and enjoyed working with his hands and building things. He had a passion for Western's and especially loved spending time with his family.
Arrangements were entrusted to Michael W. Cox, Cox Funeral Home, 218 South Meridian Street, Jasonville, IN. Visitation, was 4-8 p.m. Thursday at the funeral home. Funeral Services were 11 a.m. Friday, July 16, 2010 with Father Harold Rightor II officiating. Interment was in K of P Cemetery in Hymera, IN.
Facebook Comments