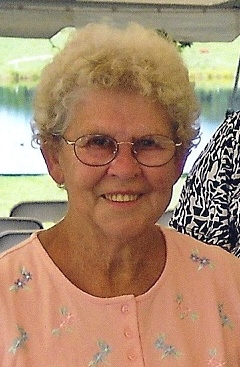 INEZ "MAXINE" THOMPSON, 82, of Jasonville, Indiana passed away at 2:11 p.m. Monday, June 19, 2017 in Sidney & Lois Eskenazi Hospital in Indianapolis, IN.  
She was born September 24, 1934 in Greene County, IN to Covert Owen and Mary (Cook) Owen.
Survivors include her husband of 64 years, William E. "Bill" Thompson of Jasonville whom she married on December 27, 1952; daughter and son-in-law, Pam & Bill Kirk of Jasonville; son and daughter-in-law, Gary and Linda Thompson of Otwell, IN; grandchildren, Anna and Jason Giberson, Bryce and Bonnie Thompson, Dusty and Holly Kirk, Rocky and Karen Caddell, Misty York, Eli Thompson; 9 great-grandchildren; 2 great-great-grandchildren; sisters and brother-in-law, Kay and Don Dowden of Martinsville, Shirley Martindale of Linton; brother-in-law and sister-in-law, Wilbur & Ruth Anne Thompson of Linton.
She was preceded in death by her parents; son, Greg Thompson.
Maxine was a Graduate of Bloomfield High School Class of 1952. She had worked at Formfit for 5 years, then NWS Crane for 5 years, then Shakamak Good Samaritan Center for 35 years. She was a member of the Mt. Vernon Baptist Church, a 35 year Jasonville-Linton O.E.S. member Lodge #140. Maxine loved to camp and fish all of her life at Indiana Beach, Kentucky Lake and Beech Bend just to name a few. She loved to watch the rabbits, birds, humming birds and all animals.
Arrangements were entrusted to Michael W. Cox, Cox Funeral Home; 218 South Meridian Street; Jasonville, IN; coxfuneralhomejasonville.com. Visitation was scheduled from 5 to 8 p.m. Thursday and 9 a.m. until service time Friday at the Funeral Home. Funeral Services were 2 p.m. Friday, June 23, 2017 at the Cox Funeral Home with Pastor Cliff Gano officiating.
Interment was at Peavey Cemetery in Howesville, IN.
Facebook Comments