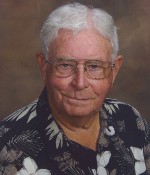 VIRGIL L. MARLOW, 79, of Jasonville, Indiana passed away 8:00 p.m. Wednesday, July 7, 2010 with his family at his side at his residence. Virgil was born May 7, 1931 in Howesville, IN on his family farm to Lebert Marlow and Irene (Hardesty) Marlow.
Survivors include his wife Leta M. (Reed) Marlow of Jasonville, IN whom he married April 17, 2002; sons & daughter-in-law, Cy Marlow of Terre Haute, IN and Ty & Lori Marlow of Linton, IN; daughters & sons-in-law, Cyd & Kevin Hunter of Terre Haute, IN, Shari Marlow of Jasonville, IN; brother & sister-in-law, Stanley & Wanda Marlow of Jasonville, IN; aunt, Imogene Marter of Worthington, IN; grandchildren, Chris & April Marlow, Amie Marlow, Nicki & Donnie Myers, Sean Marlow and James Marlow; great-grandchildren, Stephany Marlow, Shelby Marlow, Bryson Marlow, Bryar Marlow, Karlie Kent,  Lilian  Kent and Eli Myers;  step-children, John & Peggy Mondary of Clarksville, TN; Dale & Dannette Mondary of Yucca Valley, CA; Roy Mondary of Willmington, NC; Shari & Chad Sanders of Jasonville, IN; 12 step-grandchildren; 9-step-great-grandchildren; many nieces, nephews and cousins. He was preceded in death by his parents; step-mother, Louise Marlow; baby daughter, Penny Marlow; first wife, Joanne Marlow; baby great-grandson, Maison Myers; and step-daughter, Dianna Shacklett.
He was a farmer most of his life, co-founder and co-owner of Marlow Brothers Farms, worked with his father in the excavating business and was a real estate investor and developer. Virgil was a life member of Linton Moose Lodge #1434, life member of Young Men's Club in West Terre Haute, Member of Zorah Shrine of Terre Haute, Newberry F & A.M. Lodge #166, Scottish Rite Valley of Terre Haute, Sullivan County Shrine, Son's of the American Legion Jasonville Post #172, Elks Lodge in Brazil, Past President of the Oriental Band at Zorah Shrine, and Past President of Peavey Cemetery Board
Arrangements were entrusted to Michael W. Cox, Cox Funeral Home, 218 South Meridian Street, Jasonvill, IN. Visitation was 2-6 p.m. Saturday at the funeral home with masonic services scheduled at 6 p.m. Funeral Services followed at 6:30 p.m. Saturday, July 10, 2010 at the funeral home with Rev. Robert Sampson officiating. As Virgil wished cremation was chosen following funeral services. Contributions were made to the Shriner's Crippled Hospital in St. Louis.
The family invited friends and family to the Ty and Lori Marlow home for food and fellowship following the funeral services on Saturday evening.
Facebook Comments