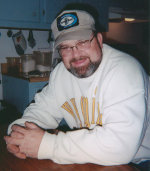 MICHAEL S. WALKER, 55, of Jasonville, Indiana passed away at 10:20 a.m. Wednesday, October 13, 2010 at Trinity Hospital in Kenmare, North Dakota. He was born August 19, 1955 in Lafayette, IN to Albert Walker and Margaret M. (unknown maiden name) Walker.
Survivors include his wife, Vicki J. (Evanoff) Walker of Jasonville, IN whom he married on November 15, 1975; daughter & son-in-law, Jodi Lynn & Jeff Brown of Farmersburg, IN; son, Travis Lee Walker of Evansville, IN; sister, Debbie Walton of Ohio; half-brothers, Jim Shiar of Roachdale, IN, Bob Shiar, Dick Shiar and Phil Shiar all of Darlington, IN; grandchildren, Keaton Sexton, Donovan Brown and Lyric Brown. He was preceded in death by his parents; son, Greg Walker; and sister, Diane Walker.
Michael enjoyed driving trucks and was currently employed by Pat Lajoie Trucking. Michael was a Vietnam Veteran of the U.S. Navy, and was a member of Laborers Union Local #204 of Terre Haute, IN.
Arrangements were entrusted to Michael W. Cox, Cox Funeral Home, 218 South Meridian Street, Jasonville, IN. Visitation was 11 a.m. Thursday until service time at the funeral home. Funeral Services were 1:00 p.m. October 21, 2010 at the Cox Funeral Home with Pastor Steve Evanoff officiating. Military rites were conducted.
As Michael wished cremation was scheduled with burial at a later date.
Facebook Comments