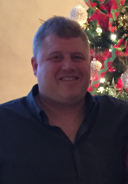 DEWEY MICHAEL WALTERS, 43, of Shelburn, Indiana passed away at 11:00 p.m. Tuesday, August 2, 2016 in Terre Haute, IN.
He was born October 2, 1972 in Terre Haute, IN to Dewey Monroe Walters and Janeen (McCammon) Walters.
Survivors include his loving mother, Janeen Walters & Allen Hugunin of Shelburn; beloved father, Dewey Walters & Beth Arnold of Shelburn; precious daughter, Jade Walters of Farmersburg; special sister and brother-in-law, Bobbi & Bill Gregan of Bradenton, FL whom he loved with his whole heart, she was his cheerleader; niece, Hayden Gregan; nephew, Tyler Gregan; several loving and caring cousins; he was loved by many.
He was preceded in death by his paternal grandparents, Harry Ray Walters & Gloria J. Walters; maternal grandparents, Robert G. McCammon & Virginia R. McCammon, she was his very special buddy.
He graduated from North Central High School where he was very active in football and baseball and selected as Mr. North Central. He currently worked at Jadcore in Terre Haute. He was fun loving and loved family, especially his only daughter whom he cherished from the day she was born.
Arrangements were entrusted to Michael W. Cox, Cox Funeral Home; 218 South Meridian Street; Jasonville, Indiana. Cremation was chosen and Graveside Memorial Services were 11 a.m. Saturday, August 6, 2016 at the Little Flock Cemetery in Shelburn, IN with Pastor Ron Riggs officiating.
In lieu of flowers, contributions were made in memory of Dewey to his mother, Janeen Walters to help cover funeral expenses.
Facebook Comments