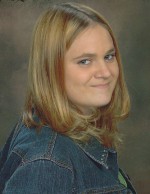 TIA LYNN WHITE, 19, of Jasonville, IN passed away at 1:37 a.m. Thursday, November 24, 2011 in Methodist Hospital, Indianapolis, IN.
She was born March 22, 1992 in Sullivan, IN to Robert White and Catrena Lynn (Simmons) Johnson.
Survivors include  mother & step-father, Catrena & Darrell Johnson of Jasonville, IN; father, Rob White and Christy Terrell of Lewis, IN; brother, Jeff Burris of Linton, IN; step-sisters, Ashleigh Myers of Ellettsville, IN, Kiersten Johnson of Linton, IN; step-brothers, Tyler Johnson of Clay City, IN and Connor Johnson of Jasonville, IN; maternal grandfather and step-grandmother, Wayne & Peggy Simmons Sr. of Linton, IN; grandmother, Debbie Earle of Linton, IN; paternal grandmother, Sue Murphy of Jasonville, IN; aunts & uncles, Bobbie Jo & Terry Pierce of Linton, IN, Wayne Simmons Jr. of Linton, IN and Holly Ferguson of Terre Haute, IN; niece, Brandee Lynn Burris; my special love to daddy, Jeff Burris of Lyons, IN and aunt, Angel Simmons of Linton, IN.
She was Preceeded in death by her paternal grandfather, Kenneth "Buster" White, and cousin, Michael Wayne Simmons.
Tia had worked summers at Shakamak State Park, and was attending Ivy Tech in Terre Haute. Tia's brother, Jeff invites her friends to bring photos and share them as space will be made available.
Arrangements were entrusted to Michael W. Cox, Cox Funeral Home; 218 South Meridian Street; Jasonville, Indiana with Visitation scheduled from 10:00 a.m. until service time Tuesday at the funeral home. Funeral Services were 2 P.M. Tuesday, November 29, 2011 at the Cox Funeral Home with Pastor Terry Dowell officiating.
Interment was at Fairview Cemetery in Linton, IN.
In Lieu of flowers donations were made to help with funeral expenses.
Facebook Comments