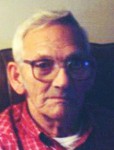 JACK E. WILKINS, 84, of Jasonville, IN, Went to be with Jesus surrounded by his family at 4:30 p.m. Friday, March 11, 2011 in Shakamak Good Samaritan Nursing Center, Jasonville, IN. He was born September 23, 1926 in Sullivan County, IN to Francis & Edith (Buell) Wilkins. Jack married June (Bolinger) Wilkins on April 14, 1978.
Survivors include his spouse, June Wilkins of Jasonville, IN; daughters & sons-in-law, Terrie Wilkins of Clay City, IN, Mary Wilkins and Brenda St. John both of Indianapolis, IN, Debby & Bill Kennett and Mona Hendricks of Jasonville, IN; sons & daughters-in-law, David Wilkins of Jasonville, IN, Mike & Alicia Wilkins of Jasonville, IN, Billie & Robin Wilkins of Linton, IN, Robert Wilkins and Richard Wilkins both of Indianapolis, IN, Rodney & Lori Lambermont and Edward & Sandy Lambermont of Jasonville, IN, and Randy & Linda Lambermont of Brazil, IN; sister & brother-in-law, Carolyn & Warren Fry of Clay City, IN;  brothers & sisters-in-law, Merle & Susie Wilkins of Cattaraugus, NY, and Andy & Dee Dicus of Jasonville, IN; 28 grandchildren; many great-grandchildren; Many wonderful nieces & nephews; 3-Exceptional Friends of great help in later years, Leland McKee, Jerry Stanfield and Charlie Boston.
He was preceded in death by his parents, 2-wives, Donna Wilkins and Frieda Wilkins; 2-children, 4-grandchildren, 12-brothers, 6-sisters and 2-sons in-law.
Jack was a retired USAF Veteran who had served in 2-wars and The Bay of Pigs, he was a route salesman for several years and then with his wife ran a couple of Antique Shops and went to antique shows. He was a baseball card collector in his later years, he loved people and never met a stranger. He was a member of Jasonville American Legion Post #172.
Arrangements were entrusted to Michael W. Cox, Cox Funeral Home; 218 South Meridian Street; Jasonville, Indiana with Visitation scheduled from Noon to 2:00 p.m. Tuesday at the Funeral Home. Funeral Services were 2:00 P.M. Tuesday, March 15, 2011 with Pastor Sam Bush & Pastor Jerry Bolinger officiating, followed by Military Rites.  As Jack requested cremation was scheduled following the funeral.
In lieu of flowers donations were made to Methodist Church and Lebanon Baptist Church food pantries, St. Jude's and Riley's Children's Hospital.
Facebook Comments